Be the Change and Make a Difference with #PlanetLFT!
Because of you - our retail partners and our loyal customers - together with our sustainable packaging and concentrated formulas we have saved:

You can make a difference - whether you are a product user or a retailer - Take action today for a cleaner tomorrow and clean with a purpose. Here is how:
#PlanetLFT is also about supporting our communities. Over the years LFT has supported registered charities like WaterAid, Plan Canada, and Homes for Heroes Foundation, as well as smaller local organizations such as the Port Moody Fingerling Festival, and the Burke Mountain Naturalists Society. Keep an eye out for new activities in our #CommunityCorner.
Want to learn more?
See below what our fans and retail partners have to say about Live for Tomorrow.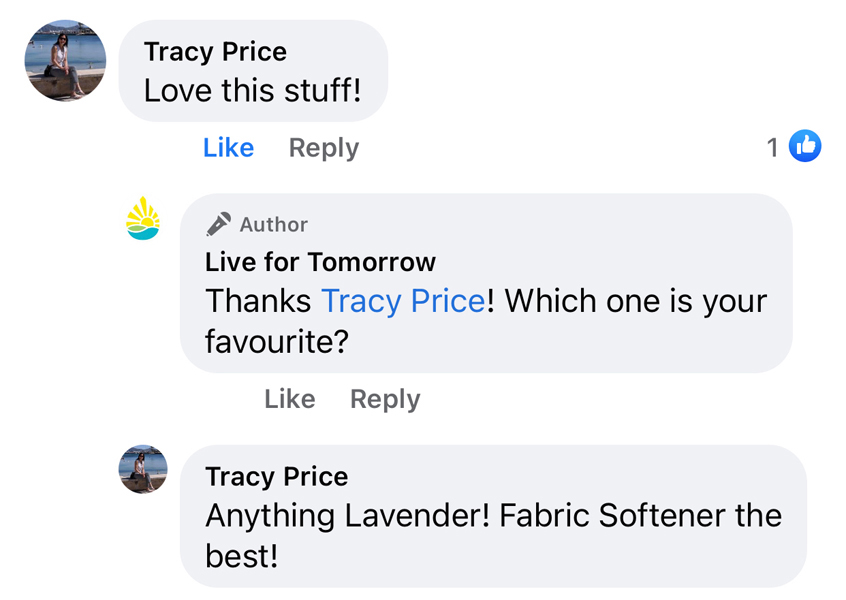 ---
"Dirt Happens" 8x Liquid Laundry Detergent
---
"Soft Spot" 8x Fabric Softener
---
"Dish the Dirt" Concentrated Dish Liquid, Grapefruit
"My favourite thing about this soap, besides its powerful cleaning ability, is the pump...I don't have to pick up the bottle with my greasy hands to pour the soap onto the dishes or onto the sponge. Plus, the stainless-steel bottle looks nice in my kitchen!" ~ Baby Maternity / Creative Child Reviewer
"This is a great natural soap with a nice scent. I'm comforted knowing I can wash my dishes without chemicals being left behind for future food use. It removes the toughest grease. When choosing to use all natural products for the kitchen, bathroom, and laundry this is a must add to the household cleaning arsenal." ~ Baby Maternity / Creative Child Reviewer
"It's non-toxic and gets tough stains and hard foods off! That seems perfect! The bottle is large and has a nice durable feel to it." ~ Baby Maternity / Creative Child Reviewer

---
"Dish the Dirt" Dishwasher Powder
"I was given a sample of the dishwasher powder to try and I can honestly say I'm impressed. The powder tackled a crusty and caked on casserole dish like a linebacker catching a quarterback out in the open. Nothing was left but a clean dish. No residue left over either on the wine glasses. It's a great product and we'll certainly be using it again in my house." ~ Paul
---
"Elbow Grease" All Purpose Cleaner
---
---
"Clean Mitts" Hand Soap – Rosemary Orange Blossom
---
"Safety Sake" Hand Sanitizer
---
FROM OUR RETAILER PARTNERS







---
Clean with us. Clean with a purpose.