We aim to lead by example, especially when it comes to the protection and conservation of water. A key part of this mission is to utilize sustainable packaging, and to give back to communities in need.
You may ask, what does sustainable packaging mean? For us it means using packaging that can be readily recycled, avoiding use of virgin plastic where possible, and minimizing packaging size as much as we can. As such, we use aluminum bottles as this is the most recycled material in North America, and as a result of our high concentration formulations, all our packaging is beautifully small. And all our efforts put in sustainable packaging has been recognized by the National Zero Waste Council.
Because of you - our retail partners and our loyal customers - along with our sustainable packaging and concentrated formulas: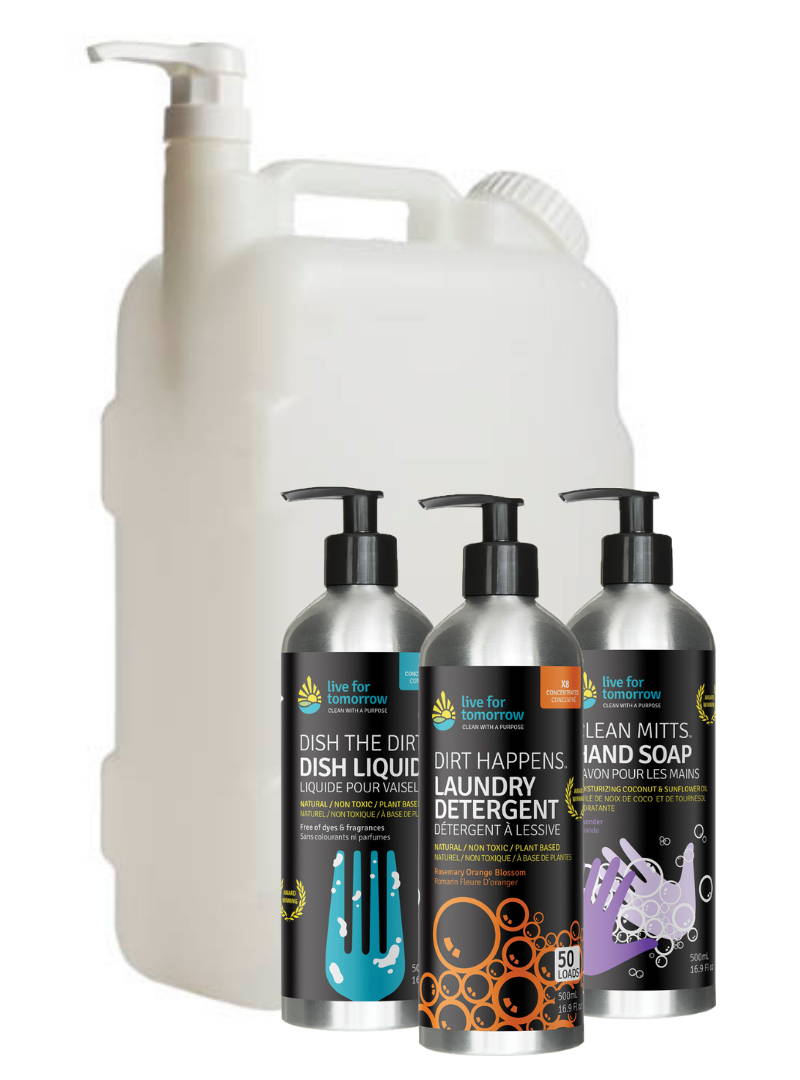 Small is indeed beautiful. What's even more beautiful? The ability to refill our smartly designed Live for Tomorrow bottles!
LFT has been offering bulk supply of Live for Tomorrow products for refill since our launch in 2007. Back then, the #ZeroWaste movement consisted of a very small demographic. Today, retailers are actively supporting the growing demand and refill stations or specialty refill stores are becoming the norm.
Why buy in bulk?
There are many reasons, and so many benefits:
Bulk sizes are more economical. If you have a large family this can be an affordable way to stretch the budget and be green.
By refilling you are reducing waste as well as minimizing the number of trips to the store. This is a great way to shrink your carbon footprint! Also, as you are not paying for new packaging, you benefit from the savings.
Check out our bulk products sold online and find a retail refill bar.
Join #PlanetLFT and help make a difference!
Be the Change and Make a Difference with #PlanetLFT!