An infusion from the purest of essential oils working in harmony with natural, non-toxic ingredients, LFT's soy-based liquid formula leaves clothes soft-to-the-touch with a subtle scent. High concentration results in 50 loads from one 500ml bottle.
PRIMARY CLEANING AGENT: SOY
Lavender 8x Concentrated Fabric Softener
Our popular Lavender formula is soft and subtle, utilizing only 100% pure essential oils. Synthetic fragrances are NOT allowed in LFT products. Designed with your enjoyment in mind, Live for Tomorrow liquid fabric softener makes the planet pretty happy too!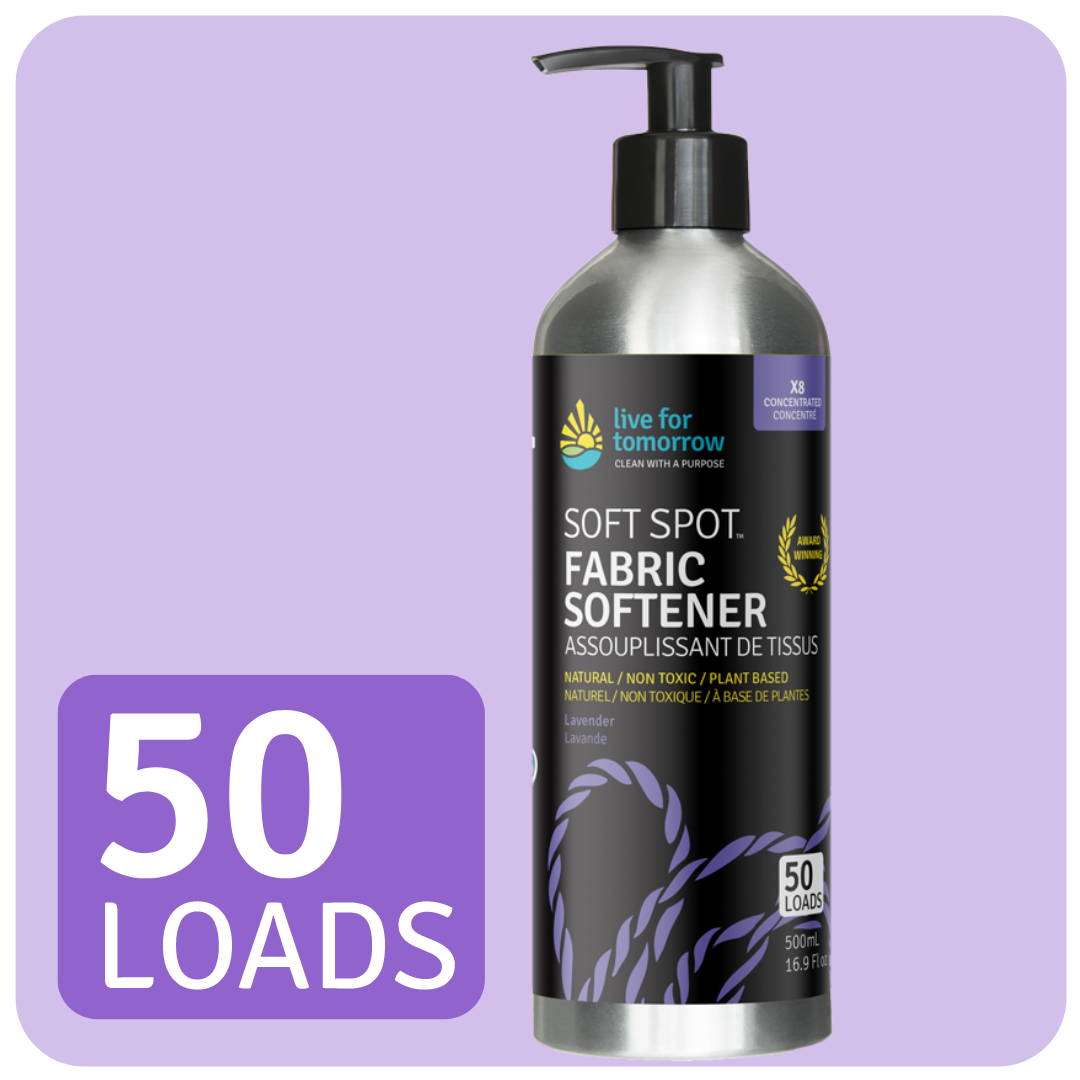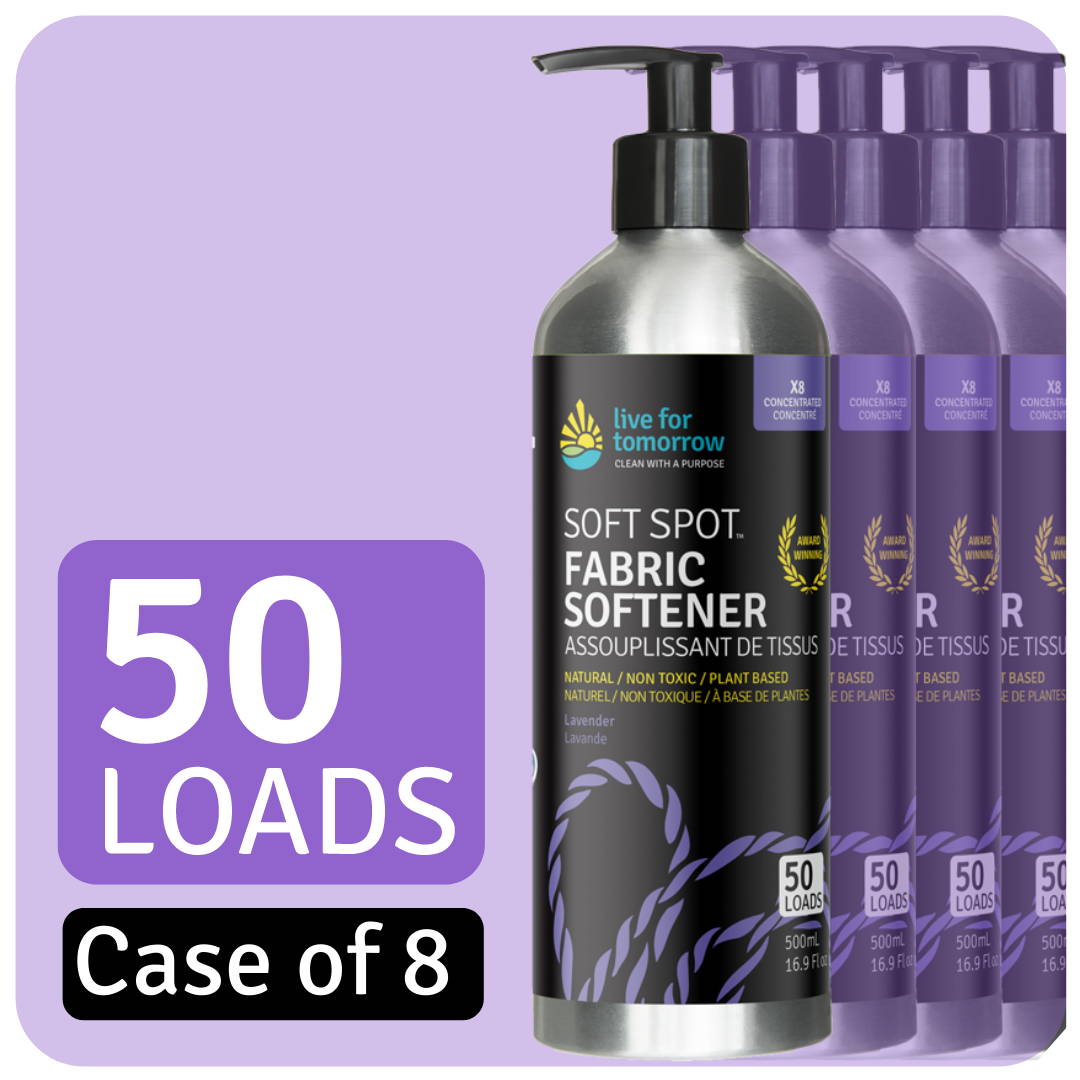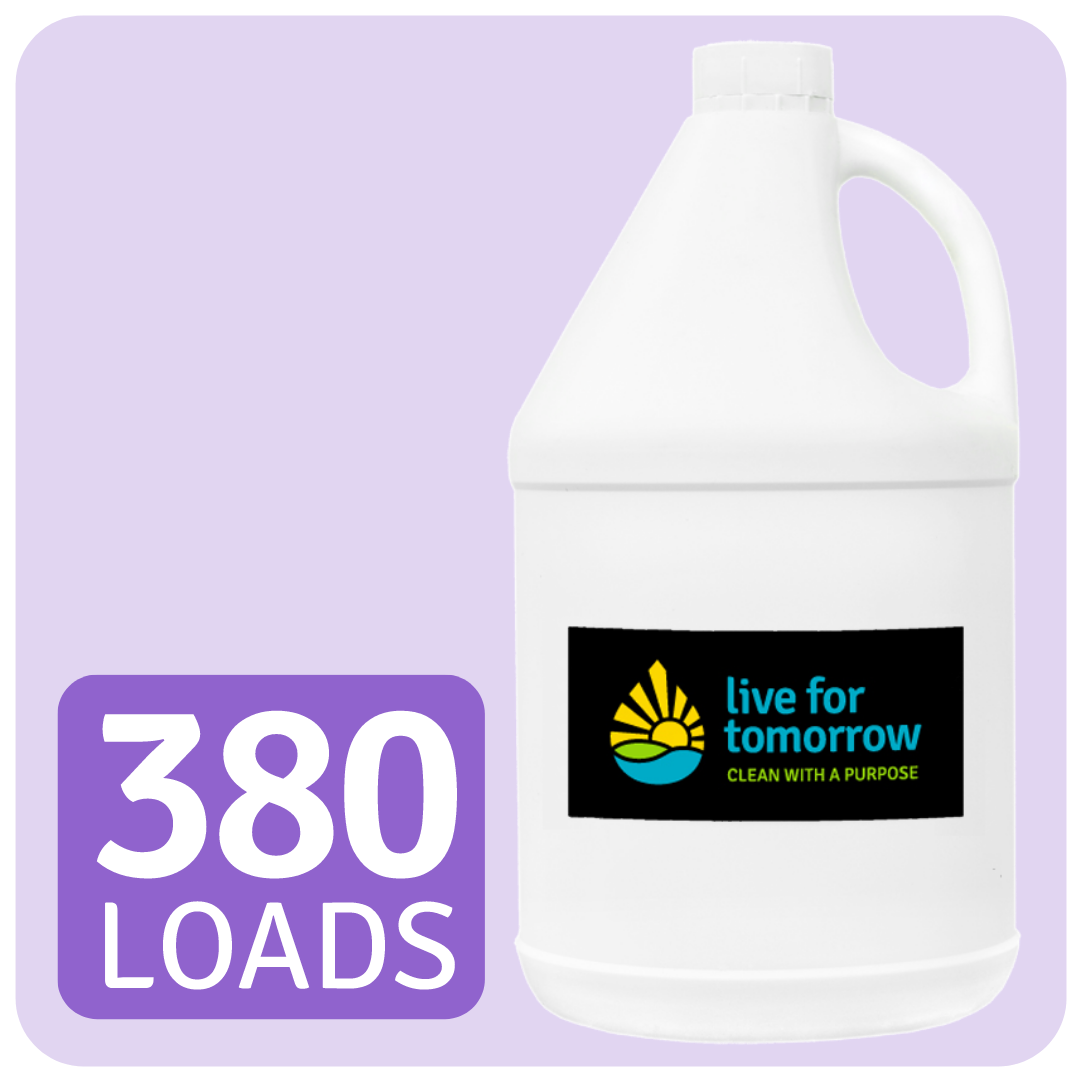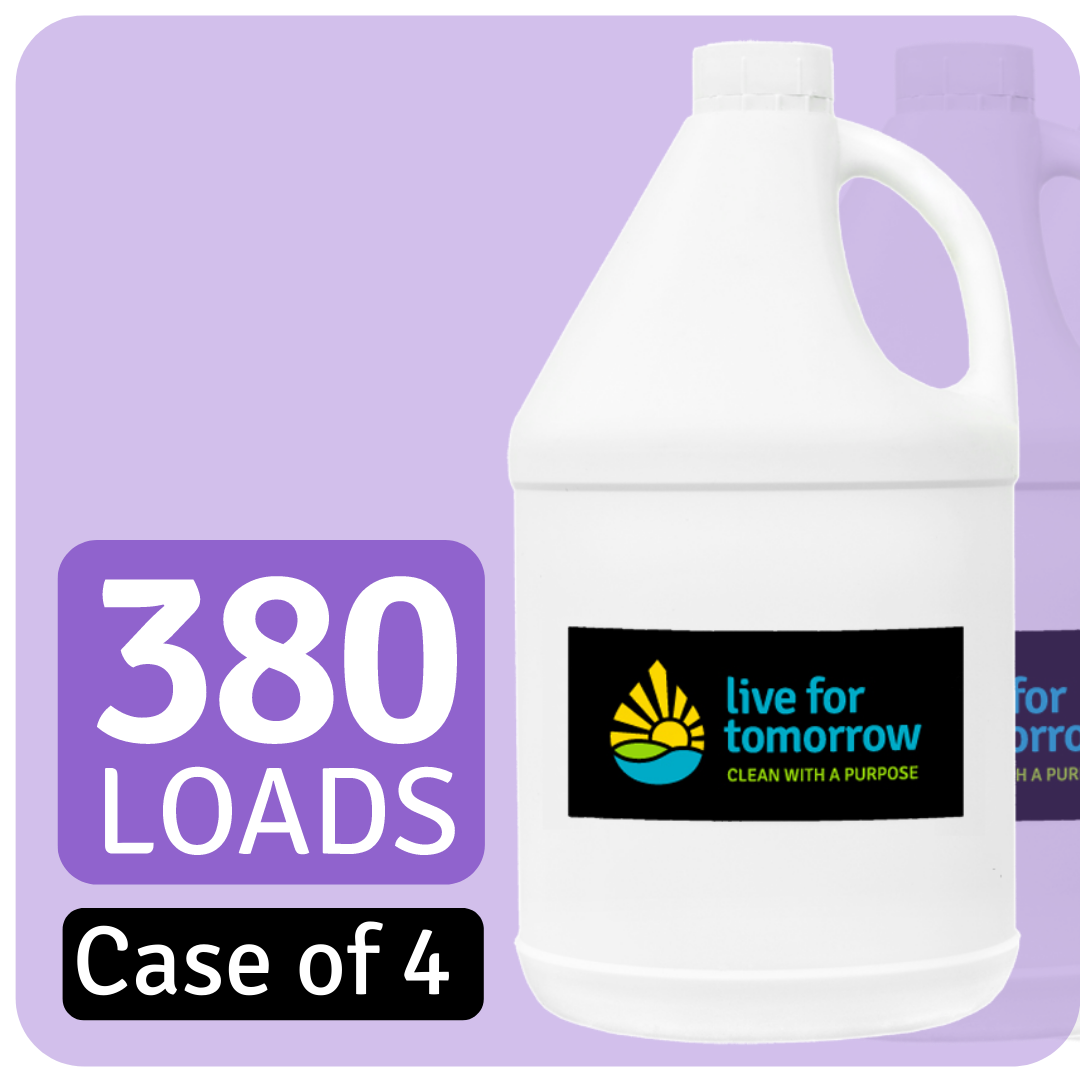 ❖ 50 Loads per 500mL | 16fl oz
❖ Premium Quality
❖ Refillable Aluminum Bottle
❖ 100% All-Natural
❖ Plant & Mineral Based
❖ Palm Oil Free
❖ Non-Toxic
❖ 100% Pure Essential Oil Scent
❖ Hypoallergenic
❖ Septic Safe
❖ Biodegradable
All ingredients are plant and mineral based, non toxic, hypoallergenic, and more! Perfect for all scent-sitivities.
PRIMARY CLEANING AGENT: SOY
INGREDIENTS: Purified Water, Methyl Bis (soya amidoethyl), -2-Hydroxyethyl Quaternary Ammonium Methyl Sulphate (Plant based softening agent), Lauramine Oxide (Plant based cleaning agent), Lavandula Hybrida (Organic essential oil), Isopropanol (Solvent), Potassium Sorbate (Food grade preservative).
Click here for our page that outlines all ingredients used in all products.

To Pre-treat: Squirt a dime-sized amount onto the stain, allow to stand, then wash as usual.
To Wash: Squirt detergent into product tray or directly into the machine.
Small load: 3 - 4 pumps | 6mL - 8mL | 1 - 1.25tsp
Medium load: 4 - 6 pumps | 8mL - 12mL | 1.25 - 2tsp
Large/heavily soiled load: 5 - 8 pumps | 10mL - 16mL | 2 - 3tsp

Warning: Keep out of reach of children. In case of eye contact, rinse thoroughly with water. If swallowed, induce vomiting and seek medical assistance.
Written by
an anonymous user
on
Customer Reviews
based on reviews
There are no customer reviews yet.
Thank you for submitting your review. Once it is approved, your review will show up in the list of reviews.
Submitting your review failed. Please try again.
All Products Available in These Sizes: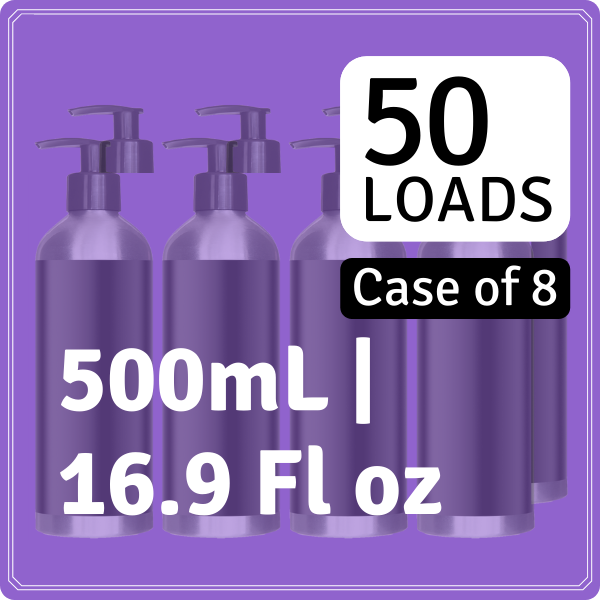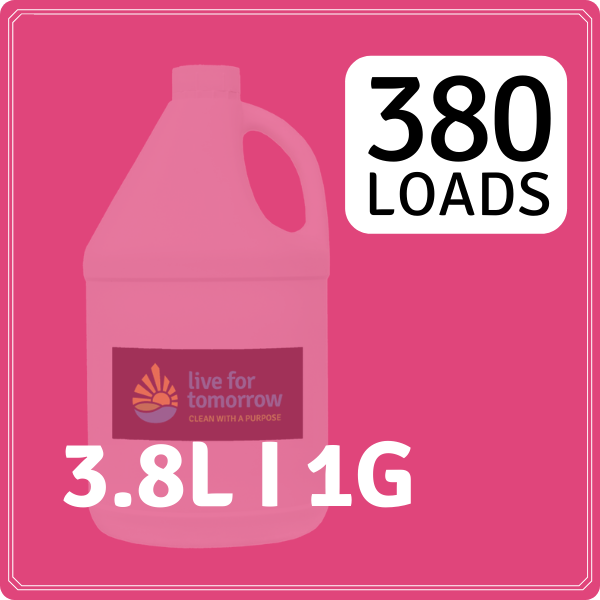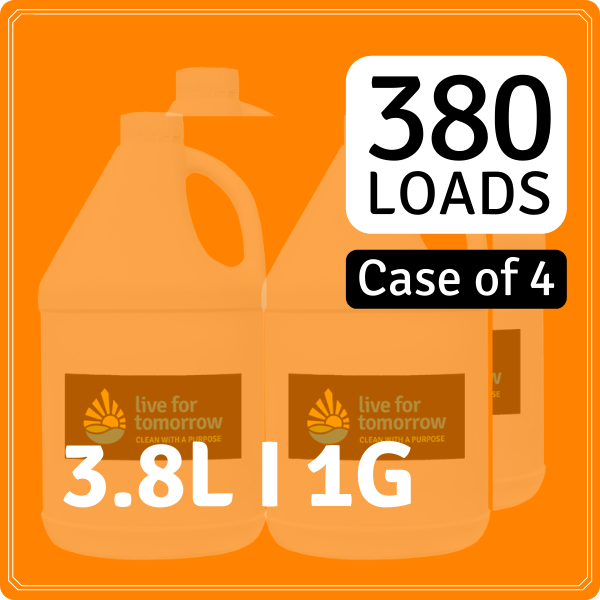 Why does Live for Tomorrow use #2 HDPE for it's 3.8L jugs?
#2 HDPE was selected for use in Live for Tomorrow's bulk containers as it is accepted worldwide as one of the easiest plastic polymers to recycle.
Why does Live for Tomorrow not offer "bag-in-a-box" refills?
The"bag-in-a-box" option offered by competitors, typically uses #4 LDPE , which is less recycled as it must be sorted from from HDPE film, and less facilities exist for management.
Q: Is the detergent suitable for High Efficiency (HE) washers?
A: Live for Tomorrow products are specially formulated for use in HE washers. They can also be used in older washers, and are gentle enough for hand washing.

Q: I have a refill with no pump - how much product should I use per load?
A: Our 8x Laundry detergent is formulated for approximately 10-12mL of detergent per average load. A teaspoon is about 6mL. Our pumps pump approximately 2mL per stroke. We suggest using between a teaspoon and a tablespoon of 8x laundry liquid. The suggested measure will vary according to the age of the washer and front load vs top load. We suggest that 25-50% more detergent is required for top load washers due to the washing type.
Small load: 3 - 4 pumps | 6mL - 8mL | 1 - 1.25tsp
Medium load: 4 - 6 pumps | 8mL - 12mL | 1.25 - 2tsp
Large/heavily soiled load: 5 - 8 pumps | 10mL - 16mL | 2 - 3tsp
Q: Is it safe for use for babies?
A: We value the needs of the environment, the future, and our families above all else. This means we source and use only the best ingredients in our products - ALL are developed to be hypoallergenic and kid safe. Tough enough to clean without irritating sensitive skin... We have a fragrance free option in each line up, and our scented options only use 100% pure essential oils. In case you did not know, our products have consistently won awards from Natural Child World and Baby Maternity Magazines! https://lftbrands.com/product-info#claims.
Q: Do these detergents work in both hard and soft water?
A: Our products are specifically designed for use in soft water. As our products are phosphate free, performance may be reduced in certain hard, mineralized conditions. We are continually improving our products and will be addressing this performance in our improvements in 2022.
Q: What temperature setting is best?
A: Live for Tomorrow laundry detergents can be used is all temperature settings, but, as the primary surfactant is coconut, use warm water for best results. Be sure to follow instructions found on garment label.

Q: Does fabric softener help when line drying clothes?
A: Our Fabric Softeners are formulated to soften, rehydrate and moisten fibres and prolong garment life. In addition, our scented products have a great aroma.
Q: Is it true "Dirt Happens" laundry detergent can be used in oceans, rivers and lakes?
A: Our products can be used in fresh water environments, but as they are coconut based, they are not well suited for cold (freezing) conditions such as ocean water. Further, because of the salt content and "hard" nature of ocean water, our products are not as effective when used in ocean water. That said, due to the all-natural ingredients, there is no risk to contaminating the natural environment when using these products in nature.
Q: Is it safe for people with nut allergies?
A: Our products are nut free. Coconuts are classified as a drupe and there is a very small percentage of the global population who can have a reaction to this.
Q: Is it safe for people with gluten allergies?
A: Our products are gluten free. We do not use any gluten or gluten byproducts in our products. Gluten is often used a thickener.
Q: Are Live for Tomorrow products non-GMO?
A: We take great care to only source ingredients which are supply verified as non-GMO. Coconut is a primary ingredient in most Live for Tomorrow products, and this is one ingredient that the GMO establishment has not looked to modify.
Q: Are Live for Tomorrow products free from animal testing?
A: We do not conduct any animal testing and only work with suppliers who do not conduct any animal testing. Live for Tomorrow is a verified and approved Leaping Bunny brand.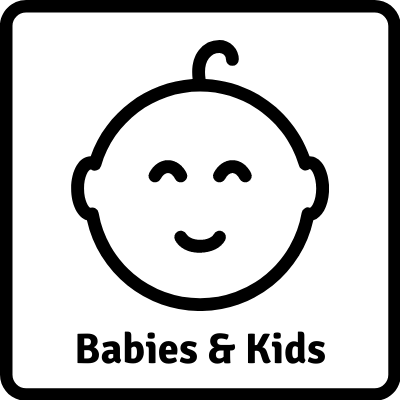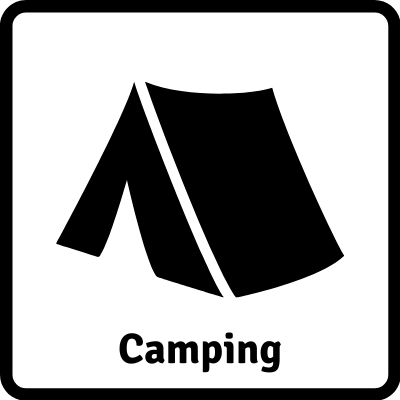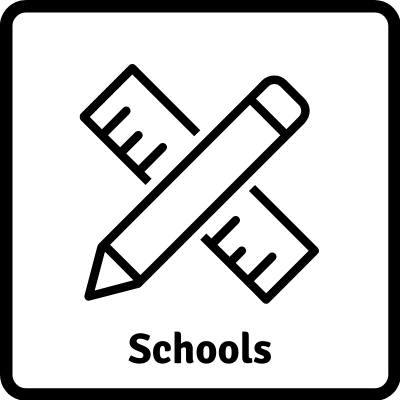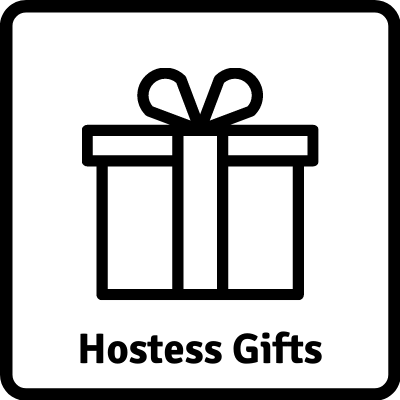 Live for Tomorrow is more than a brand, it's a way of life. #PlanetLFT
Lavender Laundry Detergent
Rosemary Orange Blossomr Laundry Detergent
Fragrance Free Laundry Powder
Fragrance Free Laundry Detergent