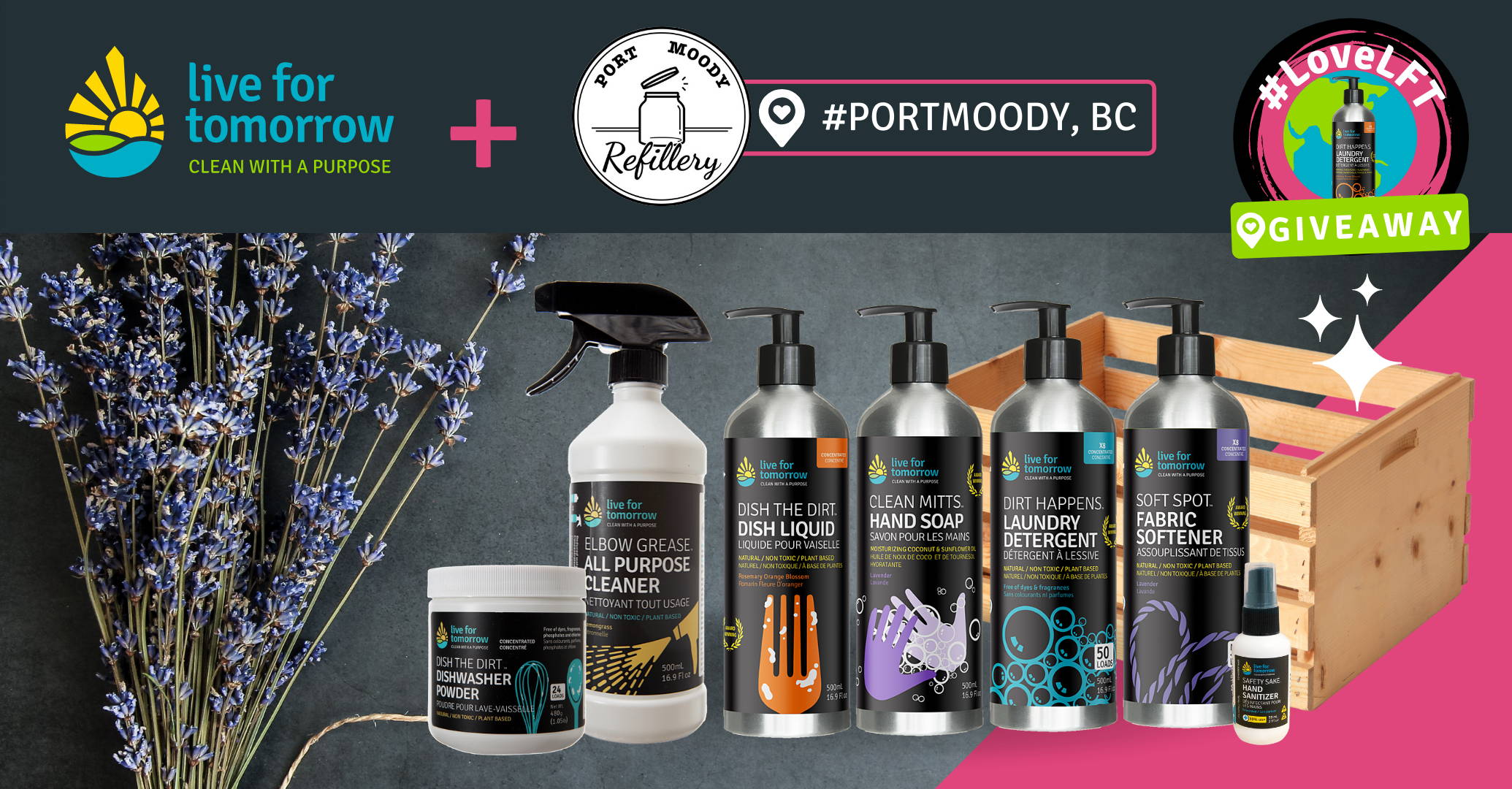 Follow us on social to watch for a Loyal to Local #LoveLFTGiveaway in your area - coming soon!
💖 ✖ This Giveaway is now closed.✖ 💖
For the love of local, Live for Tomorrow is partnering up with local retailers Canada-wide for Giveaways to celebrate community!
Starting with the Port Moody Refillery in Port Moody, BC!
Prize pickup will be at the Port Moody Refillery in Port Moody BC.
Giveaway Runs: Tuesday June 1 to Monday June 7, 2021
Winner Announced: Tuesday June 8 – by 12:00PM PST
To enter: https://lftbrands.com/giveaway
Terms: https://lftbrands.com/giveawayterms
PRIZE INCLUDES:
♥ "Dirt Happens" 500mL Laundry Detergent – Unscented
♥ "Soft Spot" 500mL Fabric Softener – Lavender
♥ "Dish the Dirt" 500mL Dish Liquid – Rosemary Orange Blossom
♥ "Elbow Grease" 500mL All Purpose – Lemongrass
♥ "Clean Mitts" 500mL Hand Soap – Lavender
♥ "Dish the Dirt" 480mg Dishwasher Powder – Unscented
♥ "Safety Sake" 59mL Hand Sanitizer – Unscented
Packaged in a wooden pine crate. Approx $100 CAD Retail Value
Good luck!
(BC residents only.)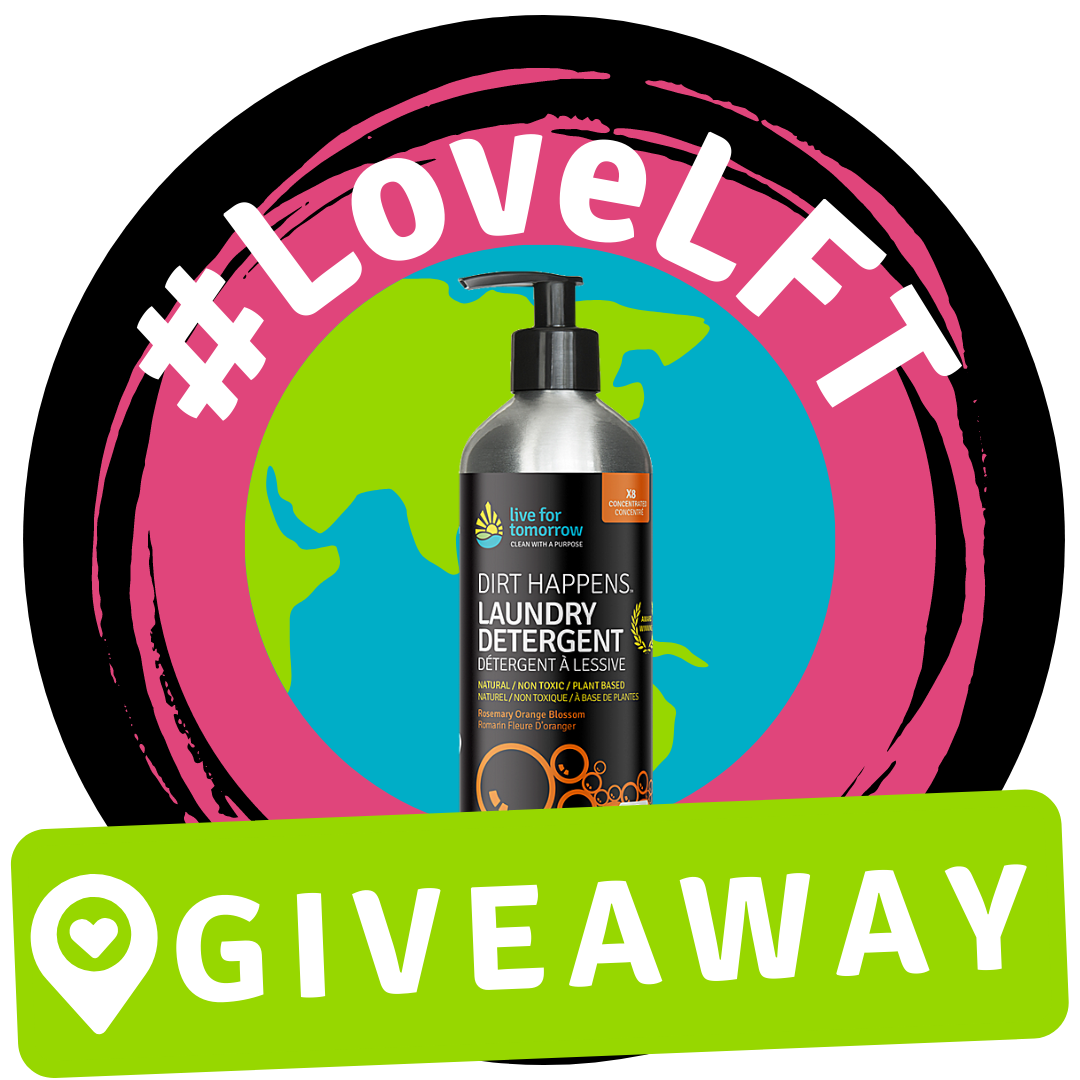 Follow @PortMoodyRefillery
---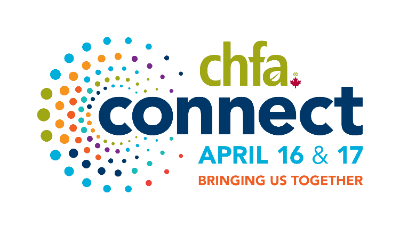 The CHFA CONNECT SPRING 2021 show is over, thank you to all who "connected" at our virtual booth!
CHFA Connect is bringing the people, products and passion of the natural products industry together, all from the comfort of your home or business. No matter where you are, take advantage of two days full of connection, inspiration and education from the best the natural products industry has to offer.
When you visit our Live for Tomorrow virtual booth, you can: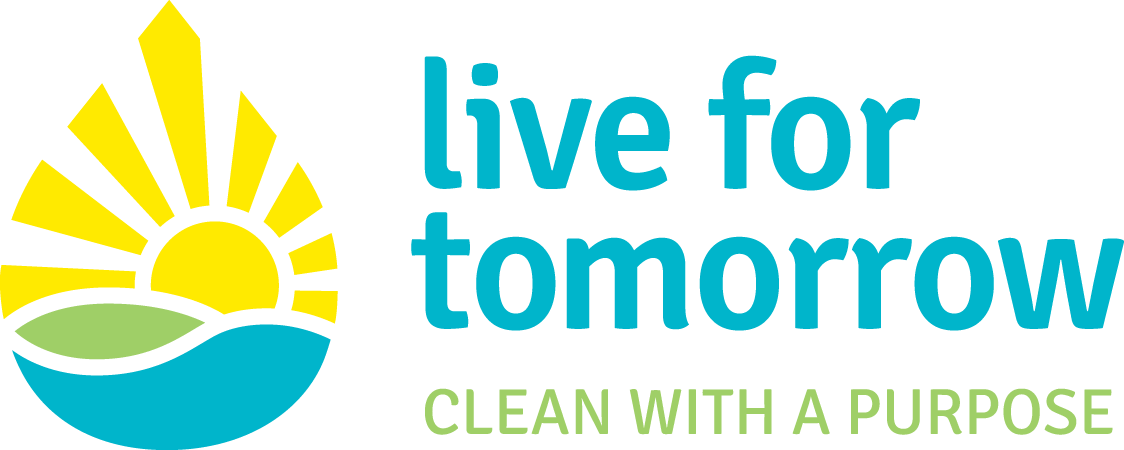 - Connect with us through text or video chat
- Book a 15 or 30 minute appointment with Munu (Founder & CEO)
- Check out our Product Catalogue & Info Video
- Take advantage of our Show Deal
We look forward to connecting with you at our virtual booth.